President's Message
Dear Friends,
As we have emphasized in other parts of this website, what we do can be distilled into three simple concepts: networking, information and advocacy.
That these three words can effectively summarize the shared interests of our 2,300-plus members, the hundreds of events which we host each year and our various publications are both representative of our organization's unwavering focus on enabling—and achieving—tangible success for U.S. business in the region and also of the collective dedication of our membership.
I believe that we, collectively, do good work, and that we have a positive impact on the business environment here. I believe that American companies set a good example for honorable conduct and forward-thinking, and I hope that both this website and our Chamber's activities as a whole will go some way toward instilling that belief in others.
If you are a new visitor, I hope you find this site informative and useful. Whether you are here for a purpose or just having a look around, I would like to thank you for your interest on behalf of all 2,300 of us. We hope to meet you in person soon!
With best regards,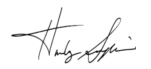 Dr. Harley Seyedin
Winner of the 2017 Oslo Business for Peace Award
(together with Elon Musk, Durreen Shahnaz and Murad Al-Katib) – Awarded by an Award Committee of Nobel Laureates in Peace and Economics
Among few individuals in 233 years to be awarded the Thomas Jefferson initiated Peace Through Commerce Medal by the US Government
Visiting Professor, Jinan University
President, Allelon Energy Partners
President, American Chamber of Commerce in South China