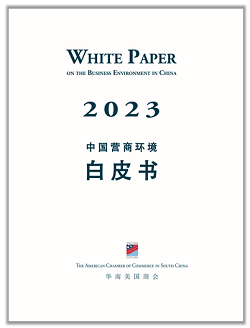 The White Paper offers a summary of China's impressive accomplishments since 'opening up' and examines the key influences on the business environment in present-day China, such as national policy initiatives and the global economic crisis.
Download the "White Paper" free of charge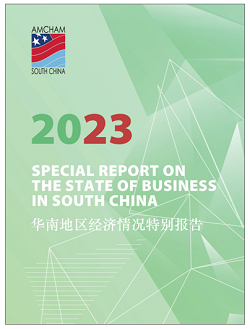 The 141 page bilingual Special Report on the State of Business in South China, our 19th such endeavor, provides a comprehensive and quantitative analysis of the business community and valuable insights into the development trends in South China. This year 210 companies participated in the Chamber's annual State of Business study. The report provides constructive suggestions for enterprises in terms of future development strategy and investment layout.
总计141页的双语报告《华南地区经济情况特别报告》是美商会第十九年发布的年度报告。该报告对商界进行了全面的研究与分析,并就华南地区的发展趋势提出了宝贵的见解。今年共有210家企业参与了商会的年度经济情况问卷调查。该报告为企业在未来发展战略、投资布局等方面提供建设性的意见。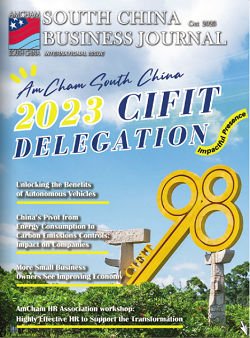 The South China Business Journal (SCBJ) is AmCham South China's monthly business magazine and is distributed to every member of the chamber, as well as major 5-star hotels in the PRD, office buildings, restaurants and other establishments every month,
Learn how to receive a hard copy of the South China Business Journal.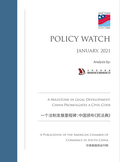 Download the Policy Watch Series free of charge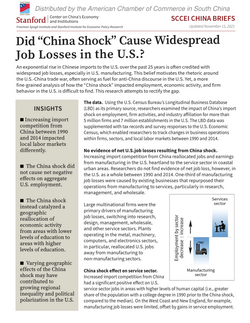 The American Chamber of Commerce in South China (AmCham South China) has reached a cooperation agreement with the Stanford Center on China's Economy and Institutions (SCCEI) to disseminate up-to-date fact-based research conducted by the Center in a timely fashion to interested parties in China, US, and around the world.
Download New China Briefs free of charge